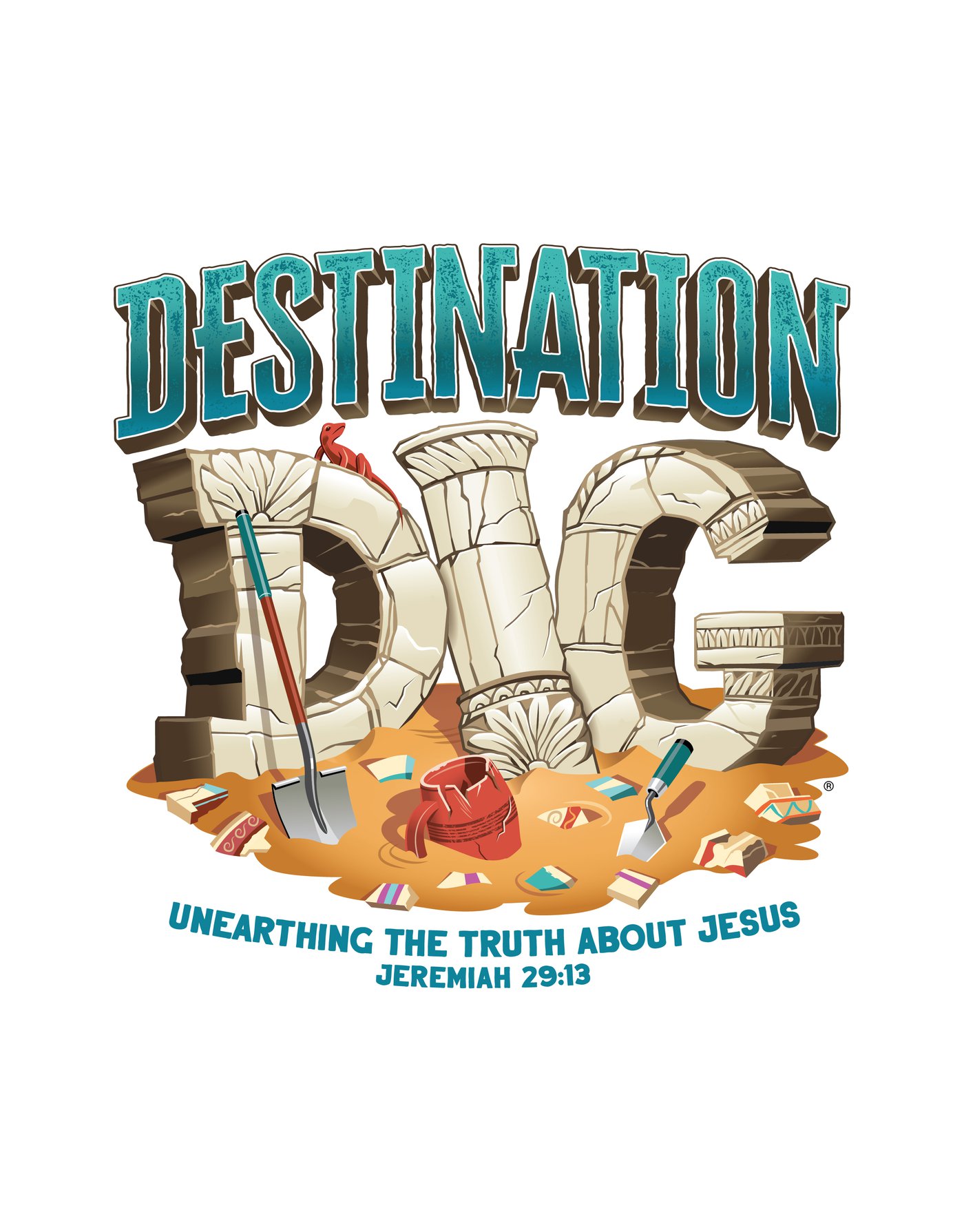 Trinity@Home VBS
June 21-25 ~ Children ages 3 years-2nd grade
VBS & The Blast!
July 26-30 ~ Students going into 2nd-7th grade
This summer we've got two weeks of Vacation Bible School fun coming your way! Two great weeks for you to invite friends, to serve, and to experience the love and truth of Jesus. This year at VBS, we'll be headed to present-day Israel where discovery awaits at Destination Dig. As junior archaeologists, kids will explore real-life archaeological finds that have helped to uncover the truth about Jesus! Along the way, they'll discover the truth of Jeremiah 29:13, that God reveals Himself to us when we seek and search for Him with all our hearts.
We need your help!
Volunteer Information
We're excited to offer two weeks of Vacation Bible School fun! There are a variety of ways for adults and older students to be involved during one or both of the weeks.
*We will be following Trinity's COVID protocols in place at that time, providing a safe and healthy environment for kids and volunteers.
Trinity@Home VBS (June 21-25, 9:30-11:30am): This week, VBS will be in dozens of places around the Greater Lansing area, taking the learning and fun of VBS into our neighborhoods, backyards, and parks. One of our church values is being active in our communities, and Trinity@Home VBS sets us up to easily invite our neighbors and friends who don't know Jesus to learn of His love for them. Trinity@Home VBS will be for children 3 years old through going into 2nd grade.
Site Host: Would you like to host a Trinity@Home VBS in your backyard, neighborhood park, or apartment complex common area? You would be responsible for preparing the physical location of your site, welcoming kids and families who attend your site, and inviting kids who live around you to attend. Site Hosts can also serve as Site Leaders or Assistant Leaders.
Site Leader: Would you like to direct and lead the VBS at a site? This role would be similar to being a room leader at our on-campus VBS in past summers. We'll provide the morning schedule, curriculum materials, Worship Rally videos, recreation activities and craft materials. You would be responsible for leading the activities and overseeing the morning at your site.
Assistant Leader: Are you a student in 7th-12th grade, or an adult looking to help out? This is the role for you! You'll assist with activities and interact with kids, sharing Jesus' love with them.
VBS/The Blast at Trinity's Campus (July 26-30, 9:00am-12:15pm):
Children in 2nd-4th grade will experience the fun and learning of VBS at Trinity's church campus. Students going into 5th-7th grade will attend The Blast!—a VBS experience tailored just for them. There are many volunteer roles where you can serve: room and relational leaders, craft helpers, recreation leaders and helpers, The Blast! elective leaders, nursery and preschool care givers (for volunteers' children), snack donation and more.
Register below to help as a volunteer or to sign your child(ren) up for a week of VBS. Help spread the Gospel and advance the kingdom all over Lansing with VBS!